Best Weather Apps
Whether it rains or it shines, it has a big impact on people's days and lives. Knowing and understanding the weather is so important that the first ever formal weather reports were published more than 150 years ago. At the same time, weather maps were also produced.
Now though, it is much simpler to tell the day-to-day weather. There are a plethora of weather apps in the market that people can utilize.
Let's check out several of the best weather apps you can download today.
---
RadarScope
The first app we'll be covering is called RadarScope. This is a weather app for people who fancy themselves weather aficionados. It's position at the top of the market speaks to how useful it is.
For just $10 for the first tier subscription, you have access to a wide variety of tools for serious meteorologists. For instance, you gain access to high resolution radar data and the next generation level 3 (NEXRAD) technologies.
You'll also get warnings for incoming natural disasters like tornadoes, flash floods, thunderstorms, and more. Moreover, you'll be able to see non-gridded lightning data in real-time and inspector tools. 
If you want to access past radar data, you can upgrade to a tier 2 subscription for $15, as well as predictive tools for natural disasters.
Dark Sky
Dark Sky is another great app. It's claim to fame is it's simple user interface and the collation of various weather reports from around the globe.
Right at the home page, you'll already be able to see the temperatures throughout the day. Scrolling down, you'll see the forecasted weather for the week. Past and future forecasts are also available.
This app can act like an interactive world map. However, the difference is that you can zone into certain states and cities to look at radar reports, forecasts, and chances of precipitation.
Another interesting feature is that you can report what the weather is like in your area.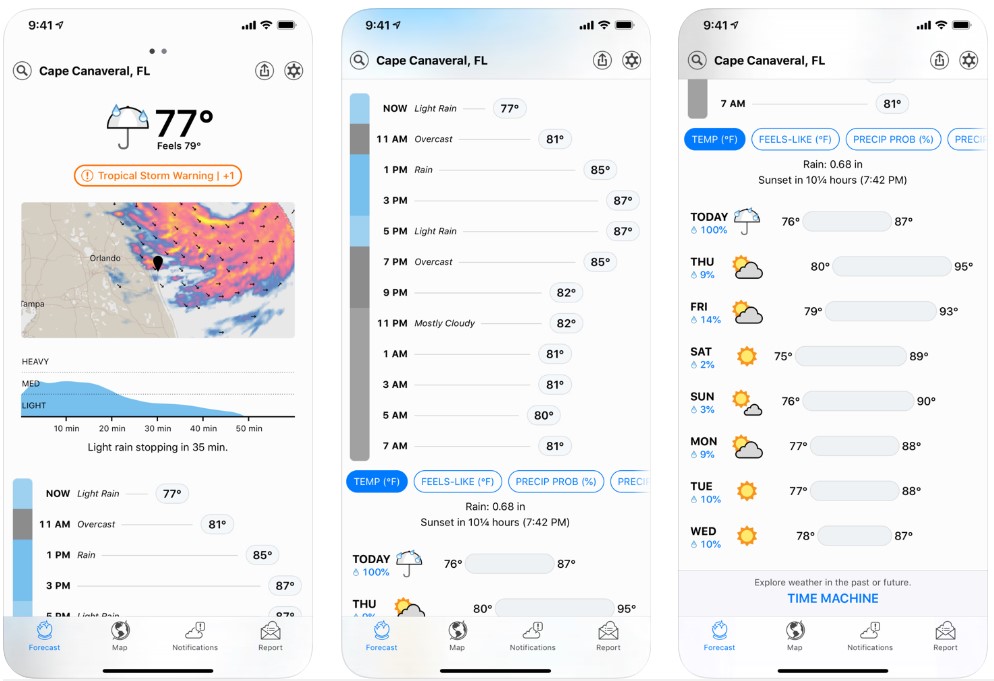 This app has been recently acquired by Apple. As such, the Android version has been taken down.
Carrot Weather
If you think weather is essential but a bit boring, try Carrot Weather out. 
Forecasts and reports are the main game of Carrot Weather. However, it offers something more in the way that these data are presented to the users.
It presents the reports in a very casual and fun way. It presents it with various graphics and quirky and profanity-laden messages. One message example is, "It's hotter than Pauly Shore's career out here."
It's simplicity takes away from the depth and breadth of data though. It delivers hourly and weekly forecasts.
There is also a built-in geography game. 
The Weather Channel
The Weather Channel app is the best overall weather service app out there now. The reports range from local, hourly, daily, and weekly forecasts. There is also a feature that tells you what the weather "feels like", which can help you plan your day better.
There are also real-time radar alerts for rain.
This app takes it one step further though. In addition to the weather reports, it also has reports on certain seasonal diseases and allergies. In today's society where the pandemic has spread, this may prove more important than the weather.
While the app does have ads, they can be removed for as little as $1 a month.
Emergency: Alerts

Finally, we have Emergency: Alerts made by the American Red Cross. As the name suggests, this is the app that you want to have (but hope to never need to use) when the weather is getting a bit crazy.
This app tracks all extreme weather conditions; from hurricanes, typhoons, floods, extreme heat and cold, and much more. 
The app also features the locations of shelters should you need them.
---
---
Depending on how into the weather you are, we hope that these apps can give you the information you want and need. Whatever weather comes to you, it is always best to stay prepared with any of these apps.